Music Director – Tracy Stuchbery
A versatile and seasoned musician, Tracy Stuchbery's career encompasses both solo and collaborative work as pianist, singer, choral director, educator, church musician and arts administrator.
A sensitive and dynamic pianist, Tracy has worked with chamber ensembles, instrumentalists, singers, choirs, church groups and musical theatre productions. While living in BC, she was in demand as an accompanist for string, woodwinds and vocal students competing at both local and provincial competitions.
Tracy was the artistic director and conductor of Musaic Vocal Ensemble, a 50 voice SATB choir based in Summerland, BC from 2011 – 2017. She has also worked with the Vancouver Children's Choir, founded and directed the St. John's Children's Chorus in Squamish, BC and the Penticton Youth Choir in Penticton, BC.
A dedicated and inspiring teacher, Tracy has been teaching piano for over 30 years. She maintained a busy piano teaching studio at the Penticton Academy of Music where she also served as artistic director of the Academy until relocating to Toronto in the Fall of 2017. Based in NYC and under the guidance of founding director, Madeline Bruser, Tracy is a faculty member of the Art of Practicing and Performing Institute, a not-for profit organization on the leading edge of teaching mindfulness techniques to musicians.
Tracy served as interim organist at St. Alban's Anglican Church in Richmond, BC and has served as music director/organist for St. John the Divine Anglican Church in Squamish, BC, and at St. Saviour's Anglican Church in Penticton, BC.
Tracy is delighted to be serving as the music director/organist and pianist for St. Philip's Anglican Church, Etobicoke.
With Tracy, we believe that singing together is a sacred act that gives life and creates life; shapes our faith and heals our brokenness; transforms lives and restores peace.
Is music an integral part of how you seek God and express your faith? Are you looking to be strengthened by a community that sings joyfully? Are you seeking a church community that encourages participation and offers contextual, and cross-cultural music? Do you find peace, renewal and inspiration by listening to music? If you answered yes to any of these questions, then St. Philip's may just be the spiritual home for you.
Music ministry at St. Philip's stands on the shoulders of the great music traditions of the Anglican Church; honouring our ancestors and incorporating the contemporary. Under the skilled leadership of our music director, Tracy Stuchbery, the congregation is encouraged to participate fully in the corporate Song of this community whether singing from your pew on Sunday morning, joining the choir, playing your instrument, coming out to the monthly "Big Sing", attending Jazz Vespers, or the Rectory Recital Series.
"For singing is our strength, and every creature serves only in song. And each child of God is invited near, to the centre of the singing forever. Hallelujah!" ps. 148:14 Lynn C. Baumann
The Choir
The purpose of the choir is to equip the congregation to participate fully in the musical expression of the liturgy. Rehearsing weekly and directed by Tracy Stuchbery, the choir provides leadership for the hymn singing, and enhances the worship with special music for Advent, Christmas, Holy Week, Easter and our Parish Anniversary Sunday in June. Rehearsals are Thursday evenings from 7:00 – 9:00 pm in the church hall from October to June.
Instruments
The St. Philip's Sanctuary is a warm, intimate space with beautiful acoustics. The music is led on an Ahlborn-Galanti digital pipe organ, and a refurbished Yamaha grand piano. Our music director, Tracy Stuchbery, plays the organ and/or piano and is frequently joined by guitarists and percussionists from the congregation who enhance the musical leadership. Other guest musicians have included singers, trumpeters, lutenists and bassists. We are always open to welcoming new instrumentalists!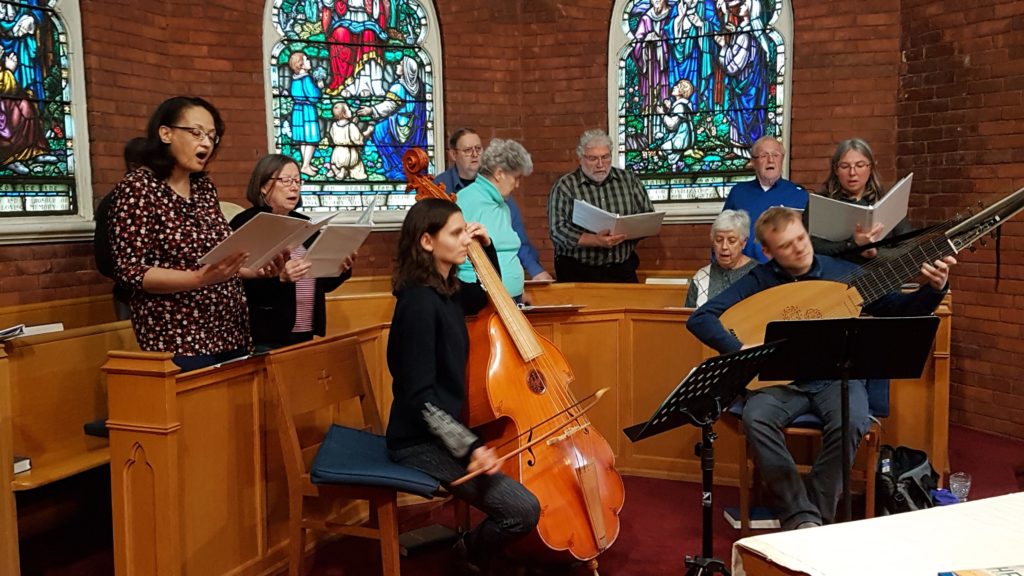 The Big Sing
On the first Sunday of every month from October to June, our music director, Tracy Stuchbery, leads a "Big Sing" from 9:45 to 10:15 am. The Big Sing brings together members of the 8:30 and 10:30 congregations to sing favourite hymns and learn new ones. It is a beautiful way to "warm up" the sanctuary and come together as one body in Christ.
Rectory Recital Series
The Rectory Recital Series – live performances by emerging artists playing in the intimate setting of the Rectory – were brought to an untimely halt by the restrictions adopted in response to the current pandemic.
We are pleased to announce Wondrous Return of the Rectory Recital on Sunday, May 9th (Mother's Day) at 3:00pm EST when we'll livestream Time Stands Still: Ancient Music of Great Britain and Ireland from the chancel.

You probably have some questions: Who's playing? What are they playing?
How can I attend? What does it cost and how do I pay? You'll find the answers below.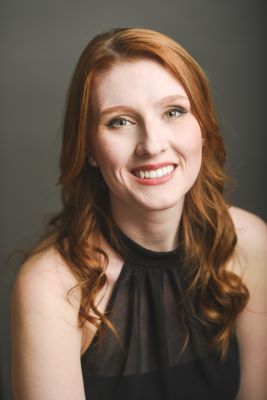 Sinéad White
Irish-born soprano Sinéad White maintains an active performing and teaching schedule in North America. She performs regularly in Toronto with ensembles such as Tafelmusik Orchestra & Chamber Choir, Theatre of Early Music and Opera Atelier.

Sinéad obtained both her Bachelor and Masters' degrees in Voice/Opera at McGill University. She received further artistic training at the Ton Koopman Academy, the Toronto Summer Music Festival and at the Victoria Conservatory of Music. Sinéad took part in the Canadian Vocal Arts Academy in Montreal and was a fellow at the Sibelius Academy's Creative Dialogues Program in Santa Fe, NM.

She was recently a young artist at the Boston Early Music Festival and is currently pursuing her Doctorate at the University of Toronto; having won numerous scholarships.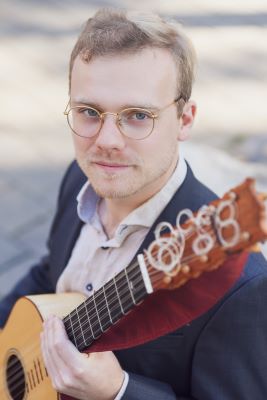 Jonathan Stuchbery
Jonathan is known across Canada, the United States, and Europe as a versatile soloist, chamber musician, and continuo player, specializing in period instruments of the lute and guitar family. His classical guitar studies began in Penticton, British Columbia with Selwyn Redivo and he received a bachelor of music with a double major in guitar and lute performance at McGill's Schulich School of Music, and was recognized for outstanding achievement in Lute.

In 2020 Jonathan received a Master's in the Performance of Early Music at the Escola Superior de Musica de Catalunya in Barcelona, studying in the studio of Xavier Diaz-Latorre, for which his master's research on guitar stringing methods in the baroque received the highest marks and has been published in RECERCAT, a repository of research conducted in Catalunya.

Jonathan is a founding member of the Cygnus trio (flute, violin, guitar), which places an emphasis on performing not only in traditional venues, but in reaching out to the community through events such as visits to women's shelters, house concerts, and children's programs.
What's being played? Music by Henry Purcell, John Dowland, John Danyel, James Oswald and Traditional songs from Ireland and Scotland.

How do I attend? Email us at stphilipetobicoke@toronto.anglican.ca. Close to the 9th you will receive an email containing the link to the concert.

Is there a cost and how do I pay? There's no set cost. We're asking you to make a free-will donation. The easiest way to do that is by visiting this website on the afternoon of the Recital and clicking on the Donate button on the home page.

Or, if you prefer, you can post an envelope with cash or cheque through the mail slot in the left hand door of the Rectory at 31 St. Phillip's Road. Please clearly identify the envelope as Rectory Recital. Please do not place cash or cheque in the open mailbox on the entry wall.