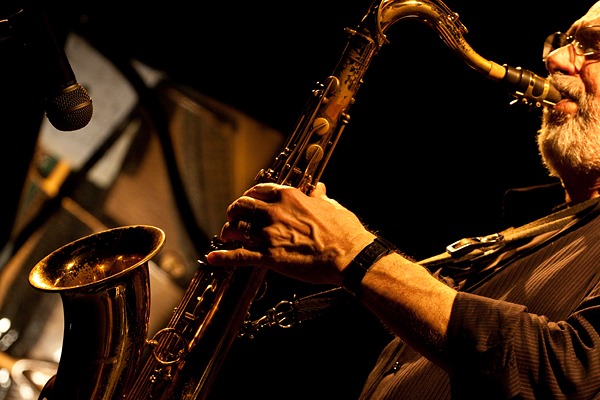 Pat (Pascel Emmanuel) LaBarbera, saxophonist, teacher, composer, was born in Mt. Morris, NY, in 1944. His first teacher was his father, Joseph, a clarinetist. His brothers are also noted jazz musicians: Joe, a drummer, and John, an arranger and composer. LaBarbera's other teachers included Joe Viola, John LaPorta, Don Menza, Joe Allard, Joe Henderson, Lee Konitz, and Warne Marsh to name a few.
LaBarbera also studied arranging and composition 1964-7 at the Berklee College of Music in Boston.
After traveling 1967-74 as a featured soloist with the Buddy Rich Big Band, he made his home in 1974 in Toronto, where he has worked in local jazz clubs, big bands, and studio orchestras. In 1975 he joined the Elvin Jones Jazz Machine, maintaining the association (with intermittent breaks) through the 1980s. He has toured Europe and Japan with both Rich and Jones, and South America with Jones.
LaBarbera has played on every major network television show including The Ed Sullivan Show & Johnny Carson's Tonight Show several times. He has worked with the biggest entertainers including Frank Sinatra, Tony Bennett, Dizzy Gillespie, Ella Fitzgerald, Chick Corea, Woody Shaw, Louis Bellson, Woody Herman & McCoy Tyner.
"Pat has tremendous musical ability beyond technical facility. He has great power of concentration to detail and is totally committed with body and soul." – Elvin Jones